Growing
demand
for
permanent
structures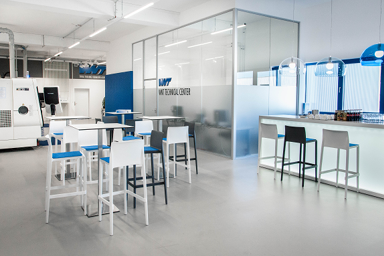 Extended business field
In the past, we occasionally were able to execute projects for a permanent use. Present, we are looking forward to a sharp increase in demand regarding this sector. Besides conventional event-related structures, we currently implement several projects, who will remain permanently.
In Kempten and Madrid we were able to realize a "Technical Center" for a client. The design is strongly adapted to the composition of their fair stand, however the furnishing was customized for permanent use. After concept and design was jointly developed with the client, the realization took place through us and other specialized companies. Especially for Madrid, the design was tailored to the spatial conditions in Spain and implemented together with a local partner enterprise. Once again we were able to strongly benefit from our network of associates: Uncomplicated cooperation, reliable on-site contact partner and cost efficiency demonstrate time and again, that we achieve excellent results with our partners abroad. Our customer is very satisfied with the result – the next Technical Center in England is already in the planning phase.

Currently we are working on further permanent structures, designing two showrooms und two foyers. For one of the two projects the practical use is primarily relevant, for the other a high recognition value of the design of the fair stand is in focus. Again clearly visible in the long-term furnishings.
We are pleased to assist our customers in this field concerning design, planning and implementation. As with our temporary exhibition stands, recognition value and a professional look of the particular business is of prime importance. A strict design line applies for event related structures as well as for permanent installations – not only saving time concerning concept development, but also benefitting from a consistent Corporate Design with recognition value.
Under Projects you can find pictures of the Technical Center in Kempten: Trade fair design for permanent use