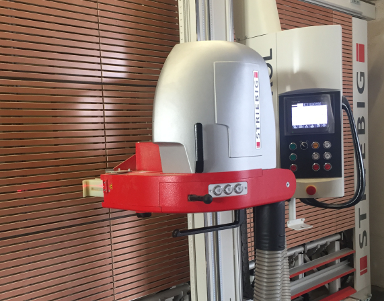 We are upgrading!
Nothing dull in fall: with many improvements and new machines, we at Rappenglitz, make daily work easier for our employees.
Our paintshop receives a new and bigger varnishing booth. As a result it simplifies the varnishing of large building components significantly. Especially walls with a height up to 5m can be coated in one piece now.Furthermore we are working with eco-friendly coatings, minimizing the impact on mankind and the environment.
Another innovation at Rappenglitz is our new panel saw made by Striebig. The 7m long vertical saw was first taken into use on September 22nd, and wins everyone over with its exact cuts. The new saw also offers an additional benefit for our carpenters: the 5,60m panels don't have to be turned over manually anymore – an immense relief for the back!
With our new edge banding machine we will gain a custom-made product in November, perfectly designed to meet our special needs. The machine was manufactured in Austria and combines three process steps into one. Making us profit from the clearly better quality – this machine is even suitable for quality furniture manufacturing.